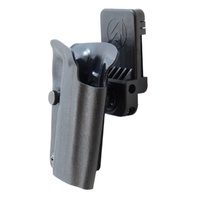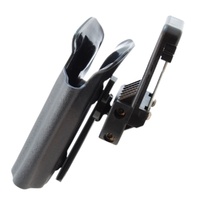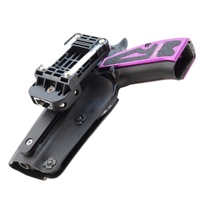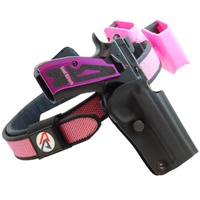 ---
---
Designed specifically for the IPSC Production Division the DAA PDR PRO has been updated following a continuous improvement program and customer feedback.
The PDR PRO-II holster has been redesigned in the following areas:
The Rail (the part which joins the belt hanger ball joint and the holster body)
Has been upgraded from plastic to aluminium, and redesigned the manner in which the height adjustment and vertical lock-up is achieved. The PDR PRO-II now has a set screw in the ball itself, which can be accessed from its inner side, allowing you to adjust height to any position, not just in the predetermined 10 mm steps as before. Also this height adjustment can now be achieved without dismantling the holster and without losing any of the other settings.
The new rail attaches to the holster body more parallel to the gun's slide, which increases the usable range of adjustment in the ball joint, allowing you to bring the gun much closer to the body than with the previous rail design.

The Holster Body
Has undergone several improvements. The high inner flap which previously covered most gun's safeties has been lowered, allowing you to obtain a more complete in-the-holster shooting-grip.
The material has been made slightly thinner to improve precision fit and retention of the pistol, and the tension spacers have been modified and improved.
The cutout in the front of the holster has been lowered further, to facilitate faster holster clearance.
PDR PRO features retained:
The slick fast unlined body, the advanced ball joint belt hanger with its wide range of adjustability, slim-line retention bars and spacers for use on competition belts ranging from 1.5 in - 2.0 in width.
Available only in Black, for right-handed or left-handed shooters.
(1086)
---
Local Pickup (no shipping)
- $0.00
Pick Up from our location in Dromedary Tasmania.
---
Flat Rate
- $10.00
Estimated delivery time is 5 working days (excludes weekends & public holidays), after the day of shipping
Daa pdr pro 2

This is a quality holster for its price range in the market. I purchased it for ipsc production. I had a ghost stinger already and wasn't entirely happy with it and thought I'd take a chance on the daa pdr pro 2. To be honest given that the pdr is only about $20 more than the ghost I wasn't expecting too much but I was surprised. This thing leaves the ghost for dead in both range of adjustability and fit as well as overall build quality. A much better product. I highly recommended it.




(5)