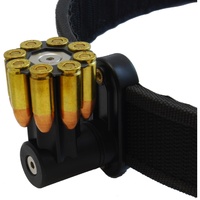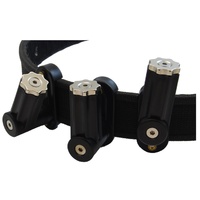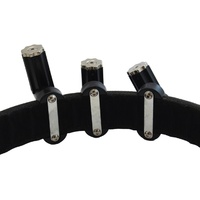 ---
---
The DAA 8-Shot 9mm/.38/.357 Magnetic Moon-Clip Holder is suitable for the moon clips used in the S&W 929.

Features:
The magnet at the top of the stem is specifically designed to fit in between the rounds on a 8-Shot moon-clip.
The stem is shaped to match the bullets held in the moon-clip. This indexes them and ensures they are in the same place overtime making reloading very consistent.
The stem can be tilted to the sides for the best angle.
The Belt Clip Hanger provides two height positions.
The Belt-Clip Hanger is attached to your outer belt via a slim plate which affords minimum separation between your outer and inner belt.
The moon clips holders are shipped with a 4mm thick magnet and have found to be suitable for all moon clips tested by Double Alpha.
Note: This magazine pouch will fit up to a 1.5" width belt.
(MP160)
---
Local Pickup (no shipping)
- $0.00
Pick Up from our store location (Bridgewater, TAS), no shipping involved.
---
Flat Rate
- $10.00
Estimated delivery time is 5 working days (excludes weekends & public holidays), after the day of shipping
Exceptional Product

By:

Ian

on 9 November 2015

Found the DAA moon clip quite functional and well designed, like the concept they are individual and can be positioned anywhere on the belt. The mounting is good and secures each holder to the belt with no movement. I like the concept of being able to adjust the angle of each one. Good quality product




(4)
Review DAA 8-Shot 9mm/.38/.357 Magnetic Moon-Clip

By:

D

on 30 September 2015

Well engineered, adjustable height and angle is very handy. Magnetic helps keep loaded moon clip stay in place until needed.Fitting very simple on 1.5 wide belt, Allen key included in packaging. Purchase service = is 1st class, communications and delivery is fantastic.




(5)
The best yet

By:

Len Marsh

on 30 September 2015

A very good product at a very good price , top quality build and very adaptable with the tilt and reversible option with the post , a good strong magnet gives one peace of mind while on the move, I have used them the last couple of weeks and I know I love them .




(4)
---
Others Also Bought
---
More From This Category