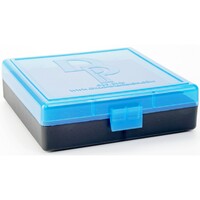 ---
---
Boxes are made of a tough plastic called "NoBreak". Dillon dropped a full box of 45's off the second story onto the concrete floor- the result was nothing was broken, the box didn't even come open!
The following sizes are avaiable:
9mm, will hold:
.38S/.357/.357Sig, will hold:
.38 Super
.357 Mag
.357 Sig
.40/.45, will hold:
(468)
---
Local Pickup (no shipping)
- $0.00
Pick Up from our store location (Bridgewater, TAS), no shipping involved.
---
Flat Rate
- $10.00
Estimated delivery time is 5 working days (excludes weekends & public holidays), after the day of shipping
Great for specific reloading for competition.

By:

Greg Unicomb

on 10 August 2016

These ammo containers are excellent when producing specific reloads for competition. Rather than sorting through to find any reloaded ammo, you can have individual containers for your loads that can be set to OAL, projectile weight or powder load. And if using new brass the spent round can be kept seperate for identification before cleaning.




(5)
Great Product,

By:

Dustin

on 16 June 2016

Dillon is always of a high quality and will continue to buy them. And Always great service from David.




(5)
Dillon Plastic Ammo Box - 100 Rounds 38SPL/357

Seems good quality as with all Dillon products, would have given it 5 stars if it had hinged detachable lid.




(4)