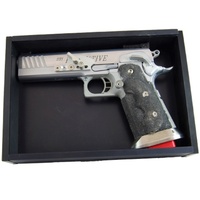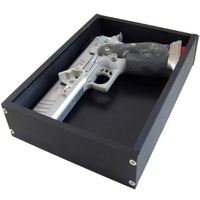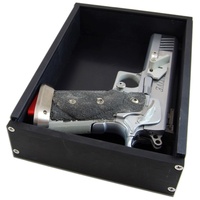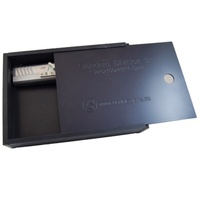 ---
---
Recommend for both personal and match use, this CNC machine Standard Division Measurement box, is manufactured from 8mm thick aluminium side panels and 3mm top and bottom panels, making this box a high quality measurement tool.
The box is hard anodised in black and the 8 assembly screws are stainless steel.
The dimensions of this box are in compliance with IPSC requirements (150mm x 225mm x 45mm with a tolerance of -0 +1mm.
This box has an added feature of being able to alter the box height (usually the most critical dimension) from 150mm - 150.9. This is done by making the screw sockets slightly adjustable so the screws can be tightened down and leave the box in its "tight" 150mm format or slide the screw head further out and then tighten them in the "large" setting of 150.9mm.
It is suggested by DAA that the "tight" setting be used for personal use so you know your gun will fit the match box, and the "large" setting be used by match officials to positively declare that a gun is out of spec when it doesn't fit.
(SA118)
---
Local Pickup (no shipping)
- $0.00
Pick Up from our location in Dromedary Tasmania.
---
Flat Rate
- $10.00
Estimated delivery time is 5 working days (excludes weekends & public holidays), after the day of shipping
Be The First To Review This Product!
Help other David Bailey Enterprises Pty Ltd users shop smarter by writing reviews for products you have purchased.