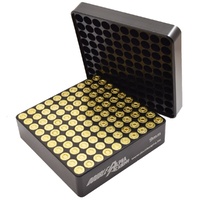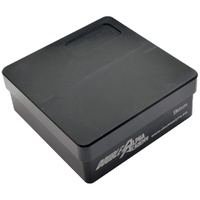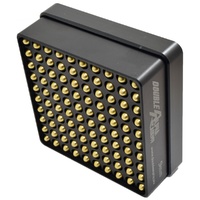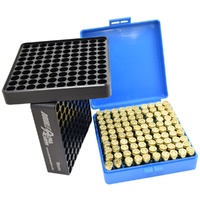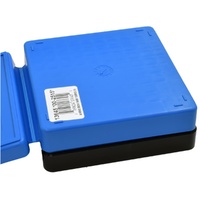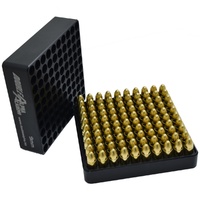 ---
---
Serious shooters understand the importance of testing their ammo before a competition. After all, most malfunctions in semi-auto pistols can be traced back to out-of-spec ammo. Unless the ammo is perfect, you can't really expect a trouble-free match.
The Double Alpha 100-Pocket 9mm Gauges are precisely machined from Aircraft-grade aluminum, then tumbled and anodized for a striking long-lasting finish. These large gauges include a Delrin flip-tray lid, which makes it quick and easy to transfer the tested bullets from the gauge and into your Dillon Precision Ammo box.
That's right, our 100-Pocket Gauge is designed smaller and tighter, to match exactly the dimension of the compact Dillon ammo boxes, which are preferred and used by so many shooters worldwide.
The compact size and tight pocket layout of our Gauge holes also make it easier to drop in multiple rounds from your handful of ammo, thus filling the holes faster and easier than other gauges which have their holes more spread out.
Another cool feature of this gauge is that while the overall height is tall enough too allow the bullet to enter all way the into the gauges while it is laying flat on a table top (30.1mm tall), the underside of the gauge has a cut-out pocket to enable you to push up on the bullet tip of a round that may be tight and stuck in the pocket. You won't have to go look for a plunger tool to use, as you may with other gauges. Simply push up on the round with your finger until it pops loose.
Using the DAA 100-Pocket 9mm Gauge, you will be able to test your ammo, and place it into your Dillon 100 round ammo boxes faster and easier than ever before.
Product includes:
1x Aluminum 100-pocket gauge block
1x Delrin 100-hole flip tray.
Available in Black only.
(90685)
---
Local Pickup (no shipping)
- $0.00
Pick Up from our location in Dromedary Tasmania.
---
Flat Rate
- $10.00
Estimated delivery time is 5 working days (excludes weekends & public holidays), after the day of shipping
Be The First To Review This Product!
Help other David Bailey Enterprises Pty Ltd users shop smarter by writing reviews for products you have purchased.