Alpha-X Mag Pouch Now In Stock
On:24 July 2018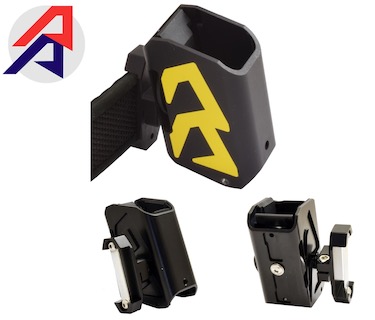 Double Alpha Academy's Top Of The Line Magazine Pouch Just Got Better.
Double Alpha Academy's all-new Alpha-X Magazine Pouch is now in stock.
With interchangeable spacers that centre the magazine in the middle of the pouch, and, for the first time ever, height-adjustable bridge support under the magazine, allowing you to determine how deeply your magazine seats into the pouch.
The new ball joint is held in the belt hanger using a pressure coupling rather than the grub screws used in the Race Master. This offers a totally secure lock up and the option to make minute adjustments to the pouch's angle and tilt without creating any "memory dimples" in the ball joint. The ball joint can be attached to the pouch in several positions, allowing a full range of height adjustable for right-hand, left-hand or bullets-out users.
And if you want to swap out the colour of the logos, then no problems, replacement logo colours are available (just like it's companion Alpha-X Holster) so you can change the colour as required. 

---
Leave a comment