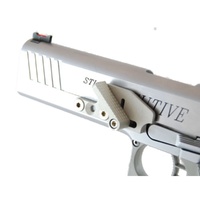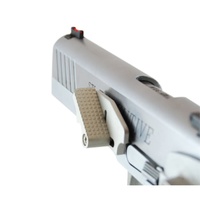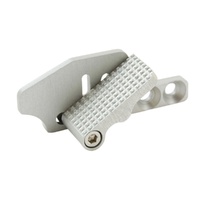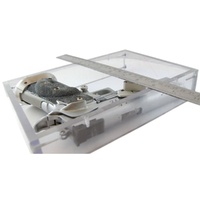 DAA Adjustable STANDARD DIVISION Thumb Rest (Light Grey, Left Hand, Single Hole)
---
---
---
The DAA Adjustable STANDARD DIVISION Thumb Rest can be fitted to an STI Edge and still meet the requirements of the Division by allowing the gun to fit easily inside the measuring box.
The paddle width is 11mm and both its angle and position can be adjusted with just a turn of a screw.
The benefits of mounting a thumb-rest on the pistol are well established, and many top shooters choose to use one on their competition guns. These are legal for both Open and Limited/Standard divisions, as long as the box restrictions are met.
To mount a thumb rest on your handgun requires the use of drilled screw holes and this is where the problem lies with many other types of thumb rests. Once the thumb rest has been mounted it cannot be adjusted, so you cannot experiment with different angle or positions.
The DAA Adjustable STANDARD DIVISION Thumb Rest allows you to adjust your thumb rest as you like, experiment, and readjust as often as needed. The unique original design allows for unlimited adjustments within a range of about half an inch, and these adjustments can be done without removing the thumb-rest from the frame. You can adjust the paddle even as the base remains locked in place.
The DAA Adjustable Thumb-Rest is available with either a light grey or Black Hard Anodize finish.
Notes:
The thumb rests come with 10mm x M4 screws. These screws fit many, but not all of the normal fixing holes on the gun frame. If the screws do not fit then you will have to determine the size of the threaded hole and source the correct size screws.
The single hole version is designed for guns with a hole pattern different from that of the Cmore/Tanfoglio. This thumb rest requires that another hole is drilled in it to match the pattern. (i.e. Align the pre-drilled hole with one hole in the frame and drill another hole in the thumb rest to match another hole in the frame).
If your gun does not have any pre-drilled holes in the frame then it is recommended that the 3 hole version of the thumb rest is purchased so no holes have to be drilled in the thumb rest.
(1090)
---
Local Pickup (no shipping)
- $0.00
Pick Up from our store location (Bridgewater, TAS), no shipping involved.
---
Flat Rate
- $10.00
Estimated delivery time is 5 working days (excludes weekends & public holidays), after the day of shipping
Be The First To Review This Product!
Help other David Bailey Enterprises Pty Ltd users shop smarter by writing reviews for products you have purchased.