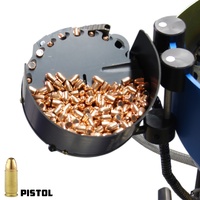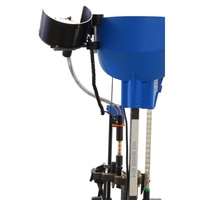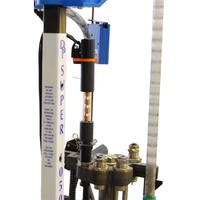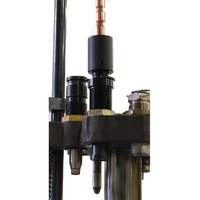 ---
---
If you reload a lot, you quickly appreciate the efficiency and reliability of this ingenious patented system.
However, Mr. Bulletfeeder® has always been a little "rough" in appearance and finish. It was made from existing materials and parts, and as such never had the sleek look and feel of a refined "production" article. Also, since the bullet feeders have always been hand made, in moderate quantities, production costs have been high, and demand always exceeded availability.
Now, all this has changed! We are proud to introduce the new Mr. Bulletfeeder® by DAA. DAA and RAK Systems have teamed up and have retooled and redesigned the Mr. Bulletfeeder®, which is now manufactured by Double-Alpha Academy. The new system, manufactured under license by RAK Systems, is lighter in weight and more compact than the previous models. It is easier to install and set up, and has a more professional "production" look and feel.
An entirely new US Paten Pending dropper system allows the new model to function better and longer than before. The new dropper design eliminates the need for any spring or small plastic parts in the dropper head, and works entirely powered by gravity and an ingenious geometric design.
And to top it all off - we can now offer the new system at a far more affordable price.
If you have never tried a bullet feeder on your progressive reloader - what are you waiting for?! It cuts the time and effort involved in reloading practically in half! A must-have item for any serious shooter.
Notes:
The Powder Funnel supplied is only compatible with the Dillon reloading machines.
If you are purchasing a Mr. Bulletfeeder in 9mm/38S/.357sig and wish to load very short, light 9mm projectiles (i.e.90gr) you will need to purchase the Small Output Assembly separately.
The Mr. Bullet feeder droppers cannot be used with Wadcutters. The feeder dropper requires a concaved top to the projectile to allow the feeder to only drop one projectile at a time. However, Semi wadcutters will work.
The power supply for the feeder is supplied with a US and European plugs and a US/AUS or EU/AUS adaptor will be required.
(878)
---
Local Pickup (no shipping)
- $0.00
Pick Up from our location in Dromedary Tasmania.
---
Flat Rate
- $10.00
Estimated delivery time is 5 working days (excludes weekends & public holidays), after the day of shipping
Its worth it!

By:

Ed Hart

on 22 December 2015

We bought it to go with the new Dillon 650, it works fantastic. Read the instructions. There are small "leafs" and a ramp that are in the drum of the feeder that may require adjusting depending on your projectile. Also make sure that the metal feed tube (spring) is not pulling the part that screws into the die one way or another, or this can cause several projectiles to fall through at once. It took a little while to figure that part out, but now it is sorted it runs a dream. Would highly recommend it.




(5)
Very nice and must have item!!!

By:

Jason Fung

on 6 December 2015

It saves lots of time and make the reloading much more easier. Worth to buy and every shooter should have one.




(5)
Excellent product

By:

Paul

on 18 April 2015

Lives up to every claim. Was easy to set up and hasn't missed a beat. How did I manage without one?




(5)
Awesome Product

By:

Scott Goudie

on 6 February 2015

Thanks David. The bullet feeder is brilliant. Out of the box it is feeding 115gn RN 9mm, 125gn conical and 135gn RN 38 Super perfectly on a Hornady Lock n Load AP press. Reloading efficiency has been increased significantly. Thanks again for the great service. This Review was originally posted on the 26/10/2013




(5)
Neat piece of gear

By:

Greg

on 6 February 2015

Thanks, David. I should have bought one years ago. A bit fiddly to set up, but lots of instruction videos online to help, so not a major drama and well worth the effort. I found a few 9mm 125 grain projectiles would tip over the wrong way for a while, until I adjusted the angle of the feeder a small amount as recommended to make it less steep and then everything was fine. Good quality, good product, good service. This Review was originally posted on the 05/06/2013




(5)
---
Others Also Bought
---
More From This Category